Including but not limited to: OCB membership, show entry fees, suit, tanning, makeup, polygraph and photoshoot!
Submit your application now. Program details below.
Street to Stage (S2S) Program Challenge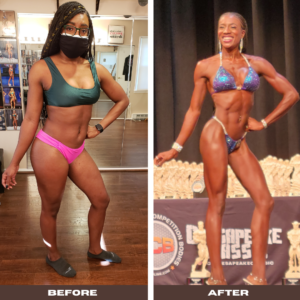 The Street to Stage (S2S) Program Challenge is an all-inclusive competition prep program and "Biggest Loser" style challenge that will culminate with successful candidates competing at the 2023 OCB Presidential Cup, located in the DC/MD area. The winner of the S2S Program Challenge will receive an all-expense paid entry into the 2023 OCB Presidential Cup compliments of Center Stage Athletics and its challenge sponsors (details below).
The S2S program and challenge is open to women of all ages, experience levels and walks of life. Applicants will be vetted by CSA coaches for eligibility and acceptance into the program will be determined based on each applicant's ability to safely and effectively complete the program in the allotted time frame. The challenge winner will be selected by a qualified panel of judges after successful completion of all aspects of the S2S program.
S2S Program Challenge Details and Rules: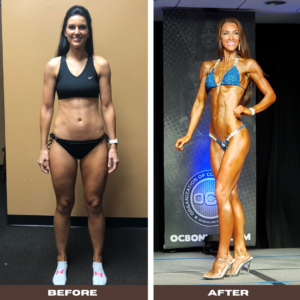 The S2S 14-month program is designed to be an all-inclusive, holistic journey to the natural bodybuilding stage.  We believe that any woman who wants to pursue her dream of competing for the first time should have the opportunity to do so with safe and effective coaching; regardless of where you are starting from. Through this program we will provide guidance highlights the full scope of what it truly takes to become a competitive athlete. In addition, the program is designed to offer a significant discount on typically ala carte coaching services for those who are accepted into the program by providing a steeply discounted package deal for the entire 14-month program.
Should you be selected into the program, all applicants must understand and agree to the following rules and expectations. More detail will be provided at the time an athlete is accepted into the program:
We are asking for full commitment and participation in the 14-month program.  This is a challenging and life altering journey that we will guide you through every step of the way.  However, all selectees must be mentally, physically, and emotionally committed to be fully present, coachable, and engaged.
There will be milestones along the way that all selectees must meet to move from Phase 1 (Pre Competition Prep) to Phase 2 (Competition Prep) and ultimately compete. Should a selectee not be deemed ready or able to transition to Phase 2 Contest Prep at the projected timeline date, the selectee will continue in Phase 1 until they have met the requirements to safely move forward. In the event of this happening, the selectee will no longer be in the running for the grand-prize at the 2023 Presidential Cup but may, at the sole discretion of coaches, be entered into the running for another show. Determination if you are ready to compete or transition to phase 2 is 100% at the discretion of the CSFP Coaches.
Should you self-select out of the program for any reason, refunds will not be provided.
The S2S program challenge grand-prize winner will be selected by a panel of qualified judges.  The selection criteria will include, but is not limited to:

Body composition improvements to include body fat loss and muscle gained
Mindbody and lifestyle improvement
Fitness and performance improvement
Embracing the principles of being a well-rounded Life Athlete
Application Rules
Open to ONLY 10 SELECTEES for the inaugural 2022-2023 project. First entry received, vetted and accepted into the program will receive free registration for our 2022 Life Athlete retreat in November 2022. *Note: Must have a minimum of 5 selectees for the challenge to take place; however, selectees will still be offered the packaged and discounted rate for the program.
Applicant must not have more than 40 lbs to lose or more than 30% body fat at the time of the application. This will be determined via physique analysis conducted by CSA coaches.
Applicant must not have competed within the last 5 years and cannot have ever held Pro status.
Applicant must have access to a full range of appropriate training equipment; either at home or in a commercial gym.
Applicant must be willing to commit to the full 14-month program, to include the ability to dedicate time daily to nutrition, training, and lifestyle management.
Applicant does NOT need to reside in the local area to CSA and/or OCB Presidential Cup; however, will be required to pay for their own travel expenses for competition.
Application process is open to current clients who have not previously competed, however, the client will be required to start a new contract in order to be entered into the program and eligible for the challenge.
Program Timeframe:
14-month program – run Aug 2022 to Oct 2023; Culminating in competing at the 2023 OCB Presidential Cup located in the DC/MD area and ending with a minimum of 8 weeks reverse and recovery coaching
Apr 1-June 1, 2022:

Accepting applications

June 15, 2022:

Announce program selectees

July 1, 2022:

Soft start/pre-work, etc. to include, but not limited to practice of foundational concepts such as consistent strength training, meal prep and food logging prior to the official start of the challenge

Aug 13-14, 2022: Official kick off with the Competition Immersion Weekend (click for details)
Aug 15-Feb 15, 2023*:

Phase 1 Pre-prep Program

Feb 15-Aug 12, 2023*:

  Phase 2 Contest Prep

Aug 13-Oct 15, 2023:

Reverse/Recovery Program
**Official dates for exit of Pre-prep and entry into Prep will be determined by coaches and are TBD
What is included in the Street to Stage (S2S) Program:
Pre-Contest Prep Coaching: 6 months of Jumpstart Pre-competition coaching service per our website($1,350 value).
Contest Prep Coaching: 6 months of Contest Prep coaching services per our website ($1,950 value).
Post Competition Reverse Coaching: 2 months of reverse contest coaching post show ($450 value).
Private Posing: 4 – 30 min private posing sessions prior to your competition ($180 Value).
Group Posing: 4 – 60 min group posing classes prior to your competition ($100 value).
Lifetime Team Membership: including private FB group access ($250 value).
Access: Full access to all our educational material, to include our retreat material and our What to Expect When You Are Competing competition guide. One selectee will get a free registration to our annual retreat! ($450 value).
Competition Immersion Weekend: Get a behind the scenes look what goes on the day prior to and the day of competition. Spend the weekend with CSA coaches and athletes learning about what it will take to get to the stage and then have full access to everything that goes on behind the scenes on show day ($225 value).
Challenge Winner Receives: All-expense paid entry and show-day expenses (show entry, suit, tanning, polygraph and show day coaching $500+ value).
Total Value $5,455+
Street to Stage Program Cost: $3820* 
If paid in full 30% discount off total package value – $3820*
If paid quarterly 20% discount off total package value - $4400 in 4 payments of $1100
If paid monthly 10% discount off total package value - $4920 in 12 payments of $410
Important note: If choosing the quarterly or monthly payment option, everyone accepted into the program is committing to paying for the selected term. There will be no early payment cancellations or refunds.
Thank you to our amazing S2S Challenge sponsors