What clients are saying....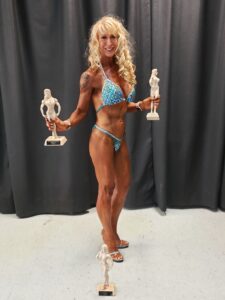 I still have to pinch myself.. and I'm still practicing my posing when I go to the gym periodically LOL.. keep saying "UP" haha..
You know what really made this the best competition for me yet?!!!  YOU.. to eat well, drink water and not feel sluggish and grumpy on showday.. I felt great, empowered and happy with myself more than i have felt in a long time.. I just needed to get with the best damn coach, trainer and awesome Sista! Win win for me!
Thank you again, you really are the best, there aren't enough words that I can say to say Im one damn lucky woman to have met you Tina!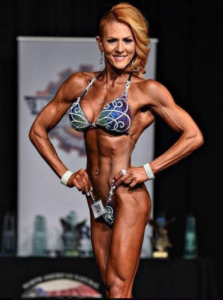 I've been competing for 15 years.... and TRUST me when I say I STILL need practice and guidance with posing. Posing is often overlooked when it comes to competing but it can- literally- make or break you on stage.
If you are ANYWHERE in the vicinity of Center Stage Athletics & Team CSFP I HIGHLY recommend you book with Tina Peratino. She's by far the best posing coach I've had. I drove two hours to work with her and it was WELL worth it!!!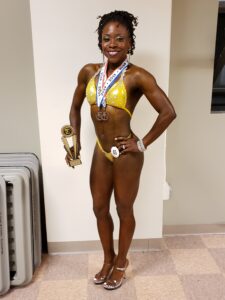 In February 2019 I competed in my first Figure Bodybuilding competition. In March won my 2nd competition and earned my Pro Card.
I had not considered competing until around the summer of last year. Although I have experience in sports and fitness training, I knew if I wanted to achieve this goal I needed someone such as Coach T. #tinaperatino for accountability, guidance, and expertise to help get me there!! From day 1 Coach T. was every bit of honest, patient, concise, attentive, and consistent. She answered every question and encouraged me when the dog days
tried to get the best of me. She even went the extra miles
and traveled several hours to my debut, which encouraged me all the more. She's an awesome coach and has built an awesome and supportive team. #teamcsfp I am forever grateful and look forward to our next time working together and future competitions!!!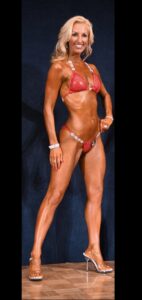 I want to thank you! I know this isn't a total journey about weight loss but a portion of it is. Over these past few months I've learned so much about myself and I've dug deeper than I ever had to...especially on days I didn't want to! Before Mama T, I'd do what I felt was enough reps or weight or cardio and call it a day. Then go home and eat cake before I went to bed. And wow, has that changed!!! 
There's many things in life that I've WANTED to do and there's things in life that I say I'm GOING TO DO. If it's something I'm going to do, I do it to completion. If it's something I "want" to do, I usually end up failing because of having no willpower to follow through. Over this time I have learned of my mental strength, dug deep through some emotional strength, gained a lot of physical strength and even found spiritual strength and overcame some insecurities. I've learned what a powerful sport of individuality this is.
What a journey of self discovery! I had to let go and let the layers just peel back and learn to trust the process! I'd hear your voice and I knew I couldn't let you or myself down. I hit a number on the scale this morning that has been my goal weight for over 18 years but for one reason or another I would come close to it but never succeed. The day I met you face to face and drove away from your house, I knew I was finally GOING TO DO this competition. Trophies and medals are wonderful and stepping on the stage is something I cannot wait to do. However I feel that I've already won! I have won so many times through this journey!! I feel AMAZING and I have you to thank for it!! Thank you a million times over!! ...
Love, Katie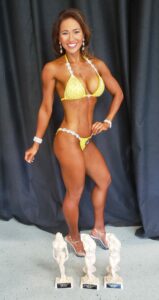 After the show I went to dinner with some old friends, and I was explaining your coaching process and all of the information that is involved in every weekly report. Her husband is a "Gold Certified Olympic Wrestling Coach" (or something like that), and he was really impressed...because that level of detail and daily journaling is a recommended practice for Olympic athletes. He said that competitors at the Olympic level understand the importance of tying everything together: your food, your training, your emotions, your sleep, etc. Everyone at the table agreed that it was a testament to your coaching that you treat us as TRUE ATHLETES, and not just some wannabe swimsuit model 🙂
 
Also, I'm really bad at mushy stuff, so forgive me if my appreciation and adoration of you comes across as awkward: but I am so grateful to have YOU as my coach! In talking to some of the other girls backstage, even the ones that are working with some big name coaches, it seems like no one else truly cares about their clients as much as you do. I think some of my friends are a little jealous that I did so well in my FIRST show...but I attribute that all to you, and how you prepped me for even the smallest detail (like shaving all over, or using horse sheen that doesn't drip like the other stuff). THANK YOU!!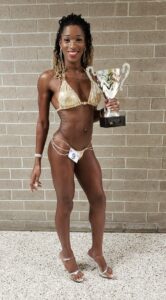 I've worked with Tina for years as a posing client, but this was my first year with her as my competition prep coach.  Through her guidance I brought my best package to stage and won my first Pro Bikini competition. With Tina as a posing and prep coach I continue to grow into a better athlete.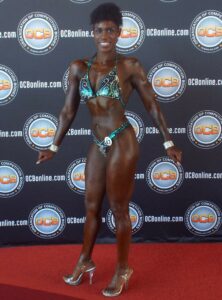 I first met Tina and the crew at my first very novice figure competition in Key West 2015, you-tube posing and all. Needless to say I needed a posing coach and we starting working together in 2016 with posing and 2017 for prep. It was a not an easy prep, but she never gave up on me. I've gained so much knowledge that was not just related to nutrition and strength training. We had to overcome my high stress 24/7 job, lack of sleep and the fact my body just refused to cooperate. Even with all these obstacles I presented my best package and could not have done it without her guidance and patience. Thank you for putting up with all my shenanigans! Look forward to working with you soon.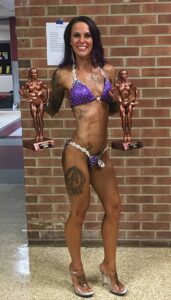 When I finally became serious about competing I knew I wanted to have a coach that knew the sport of natural bodybuilding and had a holistic approach to training athletes. I had made fitness a lifestyle for myself and my family, but somewhere along the way I realized I had totally given up on some of my goals because I just didn't think I could dedicate my whole self or the time it would take to get there. I did some more research with Tina's book on competing, and even went to a seminar to learn more. I was actually surprised all the information didn't scare me, it actually helped me formulate a plan to actually make my goal of becoming an athlete come true! Prep was NOT easy. The training, the tracking, the photos and posing but I pushed through that with Tina's help and stopped making excuses for why I couldn't and realized I CAN and I DID.
On June 3, 2018 at the NGA Annapolis I stepped on stage with my hard work on display and what used to be a dream became reality. I won 1st in Debut, and Open classes to go and win a Pro card! None of this would've been possible without the best coach and team ever! Thank you to Mama T - Tina Peratino and team CSFP for helping me to make this possible and the absolute best experience! Through competing I found out who I really am and what I'm made of and this experience wouldn't have been the same without CSFP!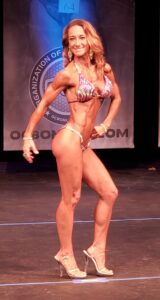 After 20+  years of wanting to compete in a Fitness Competition, I finally bit the bullet and reached out to another competitor who recommended that I get in touch with Tina Peratino of Center Stage for Figures and Physiques.
The first thing she said to me was, "you need to eat more." Well to most people this would be a dream come true but for me, eating a high calorie diet was hard. It was more of a mental block for me. Tina gave me the structure of flex dieting and bam! With my daily workouts and counting my macros my body fat was dropping as I was gaining more muscle.
​My goal was to take the stage mid-May, knowing if I wasn't ready I would take the stage in June. Week by week, I loved my Thursday morning check ins with Tina. She always had positive feedback, gave me things to work on, ie. my rear end and she understood my sarcastic humor. #virginonpromnight, #prettyprincess.
As the weeks went by my body responded so well that I was ready to take the stage in May. I literally worked my ass off.
So this 44 year old mom of 2 teenagers, both by c-section took they stage on May 12, 2018. I competed in 4 categories and not only did I place in the top 4 of each category, I earned my Pro Card for Masters 40+. I never would have made this dream come true if it wasn't for Tina. She isn't just my coach, but she is a friend who really does understand what you go through to become stage ready. Bodybuilding is a mentally challenging sport. Tina is a coach who doesn't sugar coat the mental aspect of things. She will tell you its hard, its not easy and there are days that you want to throw in the towel, but she is there with you 100% everyday. She turned this tomboy into #prettyprincess.  Thank you Tina for everything! I love you Mama T!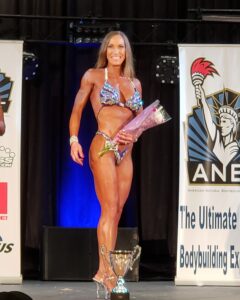 A fellow competitor recommended I work with Tina to tweak my flawed posing. I was so impressed with the improvements I made after a single session with Tina that I wanted to learn more about her coaching style. I was amazed at the number of competitors that knew and raved about her. Since working with Tina, I have learned how to eat flexibly so I can enjoy foods I love and even have dinner out with my family while still hitting the critical macro targets for my bodybuilding progress.  Tina has taught me how to properly cut for stage without the dangerous extreme low calorie diet, water restrictions and insane cardio demands I had under a previous coach. Tina is incredibly knowledgeable and gifted with regards to coaching bodybuilders and is meticulous in her customizing for each individual client. Tina would never give a client that same cookie-cutter diet/workout plan that I've seen so many other coaches give to unsuspecting clients. I am constantly amazed at the progress I make following Tina's plans. Tina's guidance enabled me to place 1st in the 2016 United States Bodybuilding Federation (USBF) Natural Pro AM Ms. Figure and the 2018 American Natural Bodybuilding Federation (ANBF) Nationals Figure Pro. I will continue to work with Tina as long as I compete because I cannot imagine another coach caring more for me and my aspirations than she does.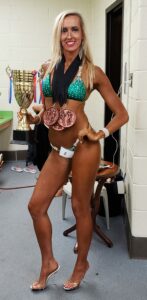 I was first recommended to Team Center Stage Figures and Physiques in 2014 by a friend because of Tina's well known flexible dieting approach. Unfortunately (or fortunately) my goal of prepping for a competition was put on hold until 2017 when all the stars aligned. I met with Tina in August, 2017 and told her I wanted to step on stage for a bikini competition in 16 weeks, after having taken a year of lifting off, barely touching carbs and doing steady state cardio daily. Her response was, "Not with me as your coach, you won't." And, bless her for this. . . Starting in August she backed me off of almost all cardio, we pushed my calories well over 2,000 per day and put on as much lean mass as possible over the next few months. By, January, 2018 we decided to start a slow cut so I could ease into a few Spring shows. I remember telling her, "I just need a plan and I will stick to it." I think we both held up our ends of the deal. Tina came up with the perfect plan week after week and we made it to May, 2018 with few tears and as many gains as possible. Going into the competition season, Tina set reasonable expectations. We knew I didn't have a lot of mass to start with and not a lot of building time so from the judges we expected to hear I will need more size and since bikini is won from the back, we knew I will continue to need to work on my glutes and hamstrings (but damn did they come far!).
I am so thankful for Tina and the support of the entire Team. Bodybuilding is as much mental as it is physical. Throughout you question yourself a million times but Tina's consistency in support keeps your head in the game and focused on what matters most, your "why."  Thank you, Tina!
Tina at CSFP provides everything you never thought you needed in a Competition Prep Coach! Not only does she always know what to say in any situation, her years of experience make her an expert in the rapidly growing field of#iwanttobeabikinicompetitor. Tina's no-nonsense approach builds immediate rapport with her clients as she becomes a daily fixture in your #preplife . I'm happy to say that I had the most positive experience working with Tina and now count her as a close, trusted friend. CSFP is built on client relationships and Tina works with myriads of clients simultaneously, yet has a way of making you feel like the #onlyunicorn there is! If you want a#CompetitionPrepLifeCoach then Tina is your#WonderWoman."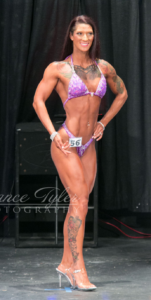 I've been asked multiple times why I chose to compete or become a body builder. It was about a year ago that I made the decision, and the truth is I have no idea why I jumped into it. I cant remember why, but I know myself and I know I must've had some foundational reason. At any rate, it doesn't matter anymore. Through the course of the last year I have changed from that person I knew. The same basic traits are still with me, but one massive difference is the sense of purpose I walk around with now, it's the confidence I gained from finding my identity. Through working with Tina and reflecting on those hard questions she pressed me with, I have found who I want to be. I've found the perfect balance between myself, my family, and work. It started with the first obstacle in prep. It started the very first time I opened myself up to her and we made the coach/athlete bond. I overcame a few things during this prep, the most life changing being that I developed a healthy relationship with alcohol. I can't express how much that has changed my life and future. Tina gave me personal wide-open mentoring to help reestablish my mindset in that regard. She was knowledgeable, experienced, responsive, caring, understanding, forgiving and tough. She was the kind of coach you can open up to and be honest with. Never once was I made to feel guilty for minor set backs. She knew I guilted myself enough. She gave me realistic goals, personal advice, one on one coaching, and a whole new perspective on life. I couldn't have asked for a better coach to guide me through my first prep. The knowledge you gain alone is worth it, but the intangibles like the friendships and experiences are what makes it one hell of a thrill. I cant wait to step on stage again, and I wont do it without her and the CSFP team by my side. No matter how educated or experienced I get, Tina will always be in my corner.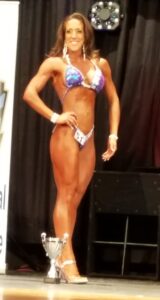 ".....All things are possible through Christ who strengthens me" Phil 4:13 So I set out for a coach who I could trust with basically my life. To hand over the reins and say... show me the way with training, nutrition and stage posing is a big deal for an OCD person like myself. Tina was everything I needed... she 'got me'. I needed matter of fact this is how it is..trust me and do it. Was it a cake walk? NO WAY. Did it turn out how I wanted? ABSOLUTELY and more. My (6) kids watched me push through my tired hungry days and Tina had my back every step of the way. She talked me through my tough spots of limitations and calmed me through my challenges and always made it known that I was actually on target. (Or ahead which actually ended up making a category change and a sooner show date~winning/or more nerves that's actually a difficult emotion to choose..lol) Her team was there to guide and help on competition days and the people I met along the way are absolutely amazing. They appreciate your journey as they have walked it. Who knew this was a personal but team sport? The bonds with Team CSFP and
Tina are irreplaceable and will be fo' sure right there when I return next year to take on the pro stage. After all... "THAT'S NEXT!!!!"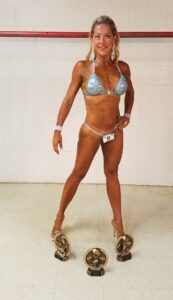 At 41 I decided that, after lifting for many years and watching nutrition for a year or so, that I wanted to push myself beyond my comfort zone and step on stage.   I had a show picked, signed up with an on-line coach, and got started.   Right about 4 weeks out I was fortunate enough to have Tina and Center Stage recommended to me to help with posing.  From my first session, Tina could see how uncomfortable I was.   She recommended a different (and smaller) show a bit further out and group posing classes.   It was so obvious from the first meeting that Tina knew what she was doing and I was getting top notch posing coaching.  She pushed and challenged me those last weeks to bring my best body to the stage, while constantly reminding me that it was MY best, and that was all that was important.
I finished last in every category but one.   The only one not called back to the stage, last.   The judges feedback was that my physique competed, they could just tell how nervous and uncomfortable I looked.   I left the show pretty defeated.  However, the one thing I took with me was the community of wonderful women that I met that day.    Tina checked on me right after and a week or so later, I knew that I had to keep pushing outside my normal box and do it again.    I immediately hired Tina for nutrition and a training plan, signed up for every posing class that I could make, and was sold on Team Center Stage.
We switched divisions to bikini, my posing improved, my confidence increased and after 9 months I got back on stage.   The difference between the first show and second was so noticeable.   When it came time for awards, it didn't matter, I felt so good about how I did that I knew whatever the placing was, I brought the best I had.    That feeling did not leave and I immediately convinced Tina that I could do a third.     They were relatively close together and I had vacations planned in the middle of prep, but she was with me every step of the way.
The picture below is from my last show, a month ago.    The woman who stood on stage at this show was so incredibly different from the woman who took the stage in the first show.    The body was almost the same, there was not much time to make any huge changes (although Tina did get me leaner!) but the changes were all over the inside.  I was confident, I felt beautiful, I knew I could do it.    When I got the pictures back the first thing I noticed was my smile.   The first show, I am not sure if it even looked like I was faking a smile.  This show I could not stop grinning.  I achieved what I wanted.
I have trained with a lot of people and had more than one coach.   Tina gave me something that none of them ever gave me before.    She knew what I needed, and it wasn't to win a medal or a trophy.    It is not a question that she genuinely cares about every person that she coaches and wants what is best for them.   Be it to step on stage or sometimes not.   Tina is ethical, trustworthy, honest, and somehow becomes a bit of your best friend, your mother, your counselor and if need be your ass kicker.   Each hat fits and she knows when to wear the right one.   But here is the best thing, not only with Center Stage do you get Tina, you get a team of people who are the nicest group that I have ever had the fortune to surround myself with.   There is not a question that they sincerely want the best for you and each other, regardless if they are standing on stage next to you.   I have felt this at every show with every team member and my only hope as we start thinking and preparing for my Pro Debut a year out, is that I can give a little of this back.    Joining Tina and the Team was one of the best things I ever did, I could not recommend this family more.