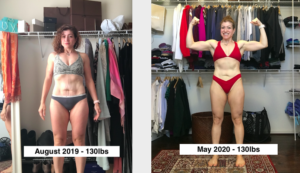 Team CSFP is full of exceptional women and Kristen certainly fits in that category.  The women we work with are not only great athletes who accomplish goals that many only dream of, they are also amazing role models. Every one of our clients has an amazing backstory full of challenges, achievements and acts of heroism. Their end-game goal or time on stage is but a sliver in their extraordinary story. We are so blessed to get to share a portion of their journey with them.  Here is Kristen's story and why she inspires us every day.
Kristin Crawley knew at an early age that she wanted to save the world. Her idea was to become a superhero, but even back then, she knew the chances of that were minuscule. Despite what her parents told her; she wasn't from an alien world. She also wasn't from an island populated by Amazons, although she certainly felt like a warrior princess. And she didn't possess billions of dollars in which to purchase bat-shaped cars and gadgets. The dream of being a superhero took a backseat to a new dream: working in the medical profession. Kristin attended The University of Maryland for both her undergraduate (BSN) and graduate degrees (Trauma-Critical Care ACNP and Clinical Specialist).
Kristin frequently used food for comfort frequently growing up. She had a lack of in-depth nutrition knowledge and an unhealthy relationship with food. She had always been heavier than average and had kept her weight around 150's with mostly failed diets and restrictive eating techniques but never exercised. She was always too intimidated by the gym and not coordinated enough for group classes. However, she faced a big challenge after giving birth to her first daughter. She stopped weighing herself when she reached 247lbs.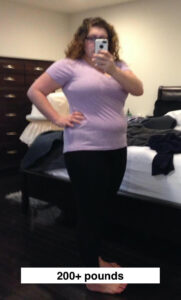 Tired, sleep deprived and suffering from post-partum depression, she took up running along with more diets/food restriction and was able to work her way down to 170lbs, which is when she found out she was pregnant with her second child. While she did not gain as much weight with the second pregnancy, she was still over 200lbs (which is significant for her 5'2" frame). She attempted running again but was unsuccessful due to a SI joint dysfunction she suffered during pregnancy.
She dieted her way down (mostly weight watchers) to 140lbs. During that time, she took a couple of OrangeTheory classes. It was there she learned a newfound love for weightlifting. However, the scale started going in the wrong direction, so she began restricting her diet more until she was eating approximately 800 calories per day.
Kristen was referred to CSFP in August of 2019 (left photo) where she began working with coach Brandi and has since been on a journey to health and wellness. Kristin is no longer interested in getting "smaller", her new focus is growing her muscles and getting bigger, which she seems to do on a weekly basis. While she has no current plans for competition, she still loves to show off her new "guns." Kristin is no longer restricting or dieting, and she is no longer nutritionally depleted (she tries to follow her coaches' nutritional recommendations closely). Now, she no longer views food as a comfort measure but as fuel for her growing muscles.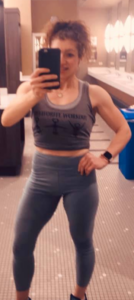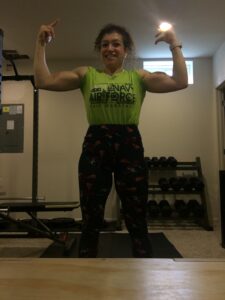 Kristin is passionate about Cardiac and Vascular Surgery. Kristin loves her husband, two daughters, baking, weightlifting, really fast cars (is obsessed with her Tesla), real estate, traveling and saving lives; but not always necessarily in that order.
Despite her lack of superpowers, Kristin still thinks of herself as a superhero, and now with the muscles to prove it. She realized long ago that the best way to save the world is by saving one life at a time.