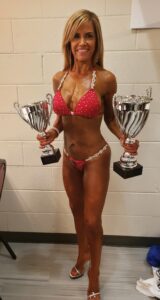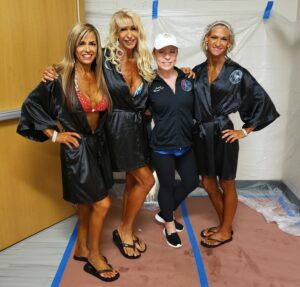 Team CSFP athletes competed this past weekend at one of the biggest Pro/Am events of the year; the OCB Yorton Cup in Washington, DC. Amateur athletes had to qualify for this event by placing top 5 in another OCB amateur event. While Pros didn't specifically have to qualify, they did have to meet OCB Pro qualifications.
Each of our athletes came in with their best stage presentations to date and placed well amongst a very competitive lineup in each of their respective classes.
Patty R (bikini) placed 3rd in her master's 40+ class and 1st in her master's 50+ class. Patty has one more show this year in 4 weeks at the OCB Mt. Rogers.
Kerstin A (figure) placed 2nd in her master's 40+ class and 1st in her master's 50+ class. This was Kerstin's 2nd and final show for the year. Time to reverse and then hit it hard in her growth season for the next time on stage!
Rebecca W (figure Pro), placed 2nd in her FIRST EVER Pro Figure debut. Rebecca just earned her Pro card with the OCB two weeks ago at the OCB Chesapeake Classic, beating a pool of 21 figure competitors in three open classes!  We went into the show with no expectations, except to see how she's fair on a pro stage. We were blown away by her placement, 2nd in a lineup of 11 pros. Sadly, she didn't place in the overall, but definitely gave it a run for the money! We're now working through a much deserved reverse and headed into a productive two year growth/improvement season before hitting the Pro stage again.
The team also had three posing clients who competed at Yorton Cup: Karen W (Pro Bikini), Amanda I (Amateur Bikini) and Andrew(Amateur Men's Physique). While none of them placed in the top five of their classes, they each made a fantastic showing nonetheless. We're proud of every single one of our athletes, regardless of placement!
Just a few more shows for the year coming up; but there's no rest for the weary [coach] because we're already prepping clients for the 2020 season! Stay tuned for more!
#teamcsfp #csfpcoaching #centerstageathletics #lifeathlete #prepcoach #posingcoach